| | |
| --- | --- |
| | As a writing center, we offer a teacher training for the promotion of academic writing every summer term and a selection of courses every winter term. JGU lecturers may visit either the training as a whole and be awarded a certificate for writing didactics or take part in individual workshops of their choice. |
All associated courses are only offered in German.
Please refer to the German Website for further information.
Target group:
Lecturers at the JGU.
Aim:
extended methodological knowledge in order to convey scientific working techniques in teaching and supervision
exchange on evaluation and feedback possibilities for scientific papers and presentations
development and implementation of learning, supervision and examination methods tailored to the individual teaching and subject context to promote academic work
Duration:
The teacher training takes place during winter term.
The entire training course comprises 56 WU (=work units, each lasting 45 minutes). You will receive the final certificate for the completion of:
Module 1 with 12 WU
Module 2 courses  amounting to 18 WU of your personal choice, depending on your individual wishes
Module 3 with 26 WU.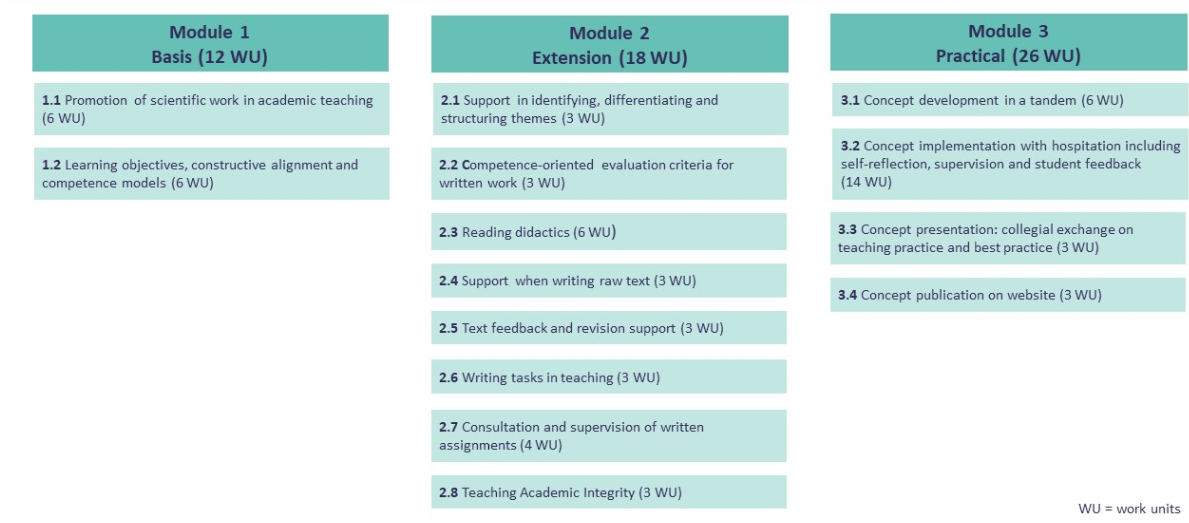 It is also possible to attend individual events from Module 1 and 2 and receive certificates of participation, although it is recommended to complete th basis Module 1 before attending the workshops from Module 2.
The certificate program is offered by the Center for Quality Assurance and Development.